Fixes:
Fixed issue with column aliases containing single quotes.
Fixed issue with Help dialog in 20.4.
Added handling for previously illegal characters (:;[])
Improved Premium dialog message.
Improved interface for export query types.
Widened autocomplete bar to accommodate longer text.
Added message about setting up security groups when none have Full permission to the page.
Adjusted autocomplete to allow for case-insensitive suggestions.
Fixed bug with error messages being appended to the wrong query run.
Fixed issue with trailing semicolon keeping queries from running.
Fixed possible issue with switching queries and updating editor.
Fixed issue with autocomplete immediately after opening parenthesis.
Fixed issue with table/field decode dcid detector.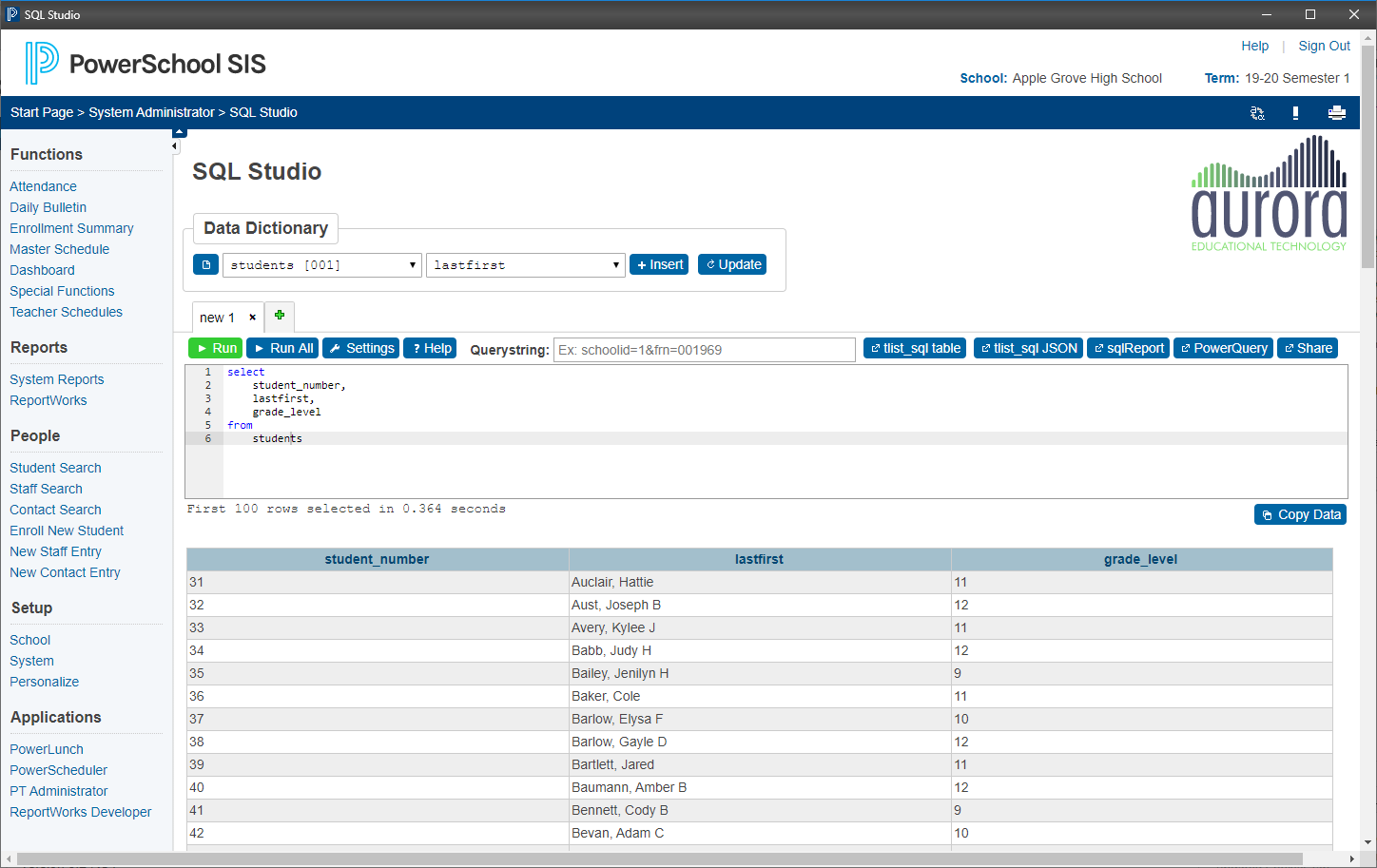 New features:
Added Format button to beautify current query (sql-formatter-plus).
Added creation and last run dates to query metadata.
Added arguments, summary text, field names, and inverted domain name to PowerQuery export type.
Added truncated Forum Post query export type.
Added SQL Developer query export type.
Added data export templates for CSV, TXT, and JSON.
Added handling of Oracle arguments for use with PowerQueries and SQL Developer.
Added autocomplete for PowerQuery argument syntax.
Added autocomplete for aliased table names.
Added autocomplete for ps_customfields API functions.
Added some PSHTML tags for autocomplete.
Added autocomplete for table.*
Added logout detection.
Added record linking and buttons for building a selection from DCID values from any table found in DDE.
Added Backup/Restore functionality for preferences and queries.
Added detailed ORA error logging to console.
Other changes:
Moved query export buttons to multi-button group to allow for more options.
Removed clipboard plugin and replaced with simpler copy implementation.
Changed student selection builder to redirect to /admin/home.html.
Removed SQL> prompt from forum post export type.
Changed tab icons to buttons with ui-icons.
Moved Ace editor out of plugin and deployed via CDN.
If you are not already a SQL Studio Premium subscriber, here is what you are missing:
Querystring: Pass a set of

key=value

pairs to the query. This is useful for testing queries that will have arguments passed to them from user input.
Tabs
Export buttons: One-click buttons for exporting a query to tlist_sql, sqlReport, or a PowerQuery
Copy Data button: Copy the queried data to the clipboard